Title: Custodians
Dajohn - February 7, 2012 09:56 PM (GMT)
this is my wip attempt at a custodian...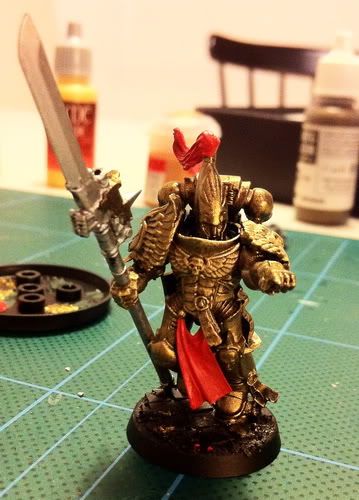 Not quite done with the painting but I am pretty pleased whit the model in it self.
any feed back? ideas? opinions?
praetorian13 - February 8, 2012 06:12 AM (GMT)
the body is uber cool.
Paint job is evocative of what I have read about them
I do not love the head My first thought was "Why is that Eldar in such heavy armor?"
Maybe something Greek/Roman looking?? I think Max Mini has some Greek sci fi helmets called Tribe of the Black Lotus
Anyhow really good build tho
fire1098 - February 8, 2012 12:08 PM (GMT)
The mini looks great, maybe the photo wasn't so good?
GreyDeath - February 8, 2012 02:57 PM (GMT)
actually what couple pics of art work I have seen they actually have very Eldar looking helmets.. so that is a great match to the art work I have seen.. plus the paint job matches well. (or will when finished)

Good work I think.
Nicely done

;) :)
Dajohn - February 8, 2012 07:11 PM (GMT)
Thanks for the input! it´s actual a high elf helmet, the cone head helmet fits the artwork I have seen. The thing I´m not completely happy whit is the "face" I feel that it needs some kind of high tech face mask or some thing
Dajohn - February 24, 2012 04:46 PM (GMT)
So the guys I´m gonna use for terminators is more or less done and I think they look the part next to the power armored costodian. I´m waiting for the parts to build me ten of the power armored boys and I have ten in terminator armor done.
oh and here´s a couple of pictures... ;)
Terminator and power armor side by side.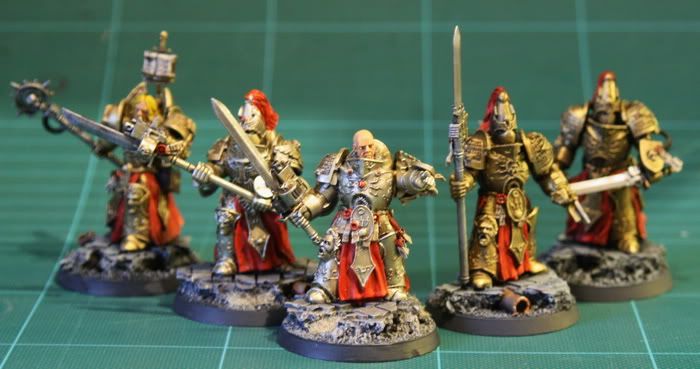 Terminator squad one
Terminator squad two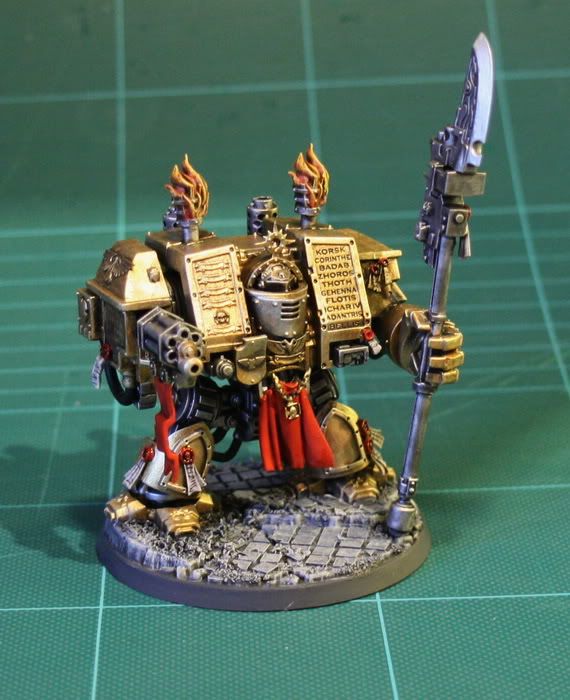 some heavy support...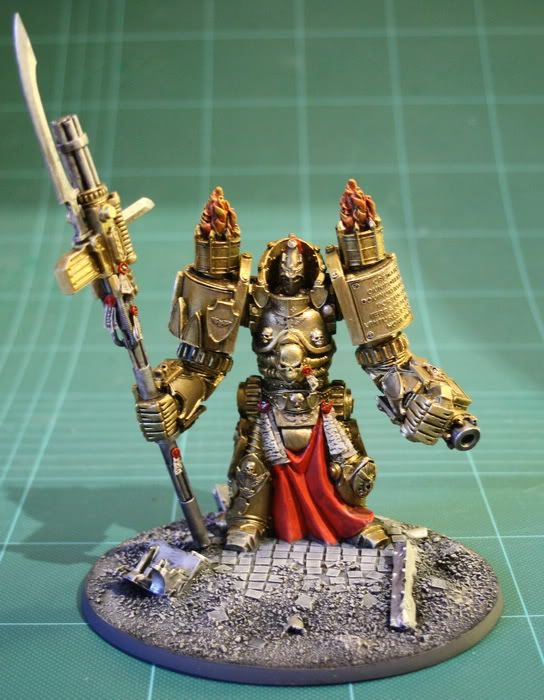 and a bit heavier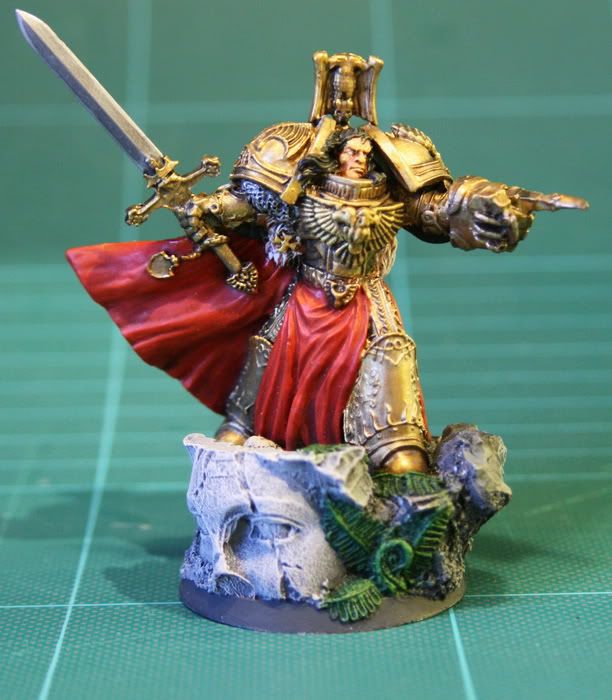 the big man himself... B)
group shot
MrBigMr - February 24, 2012 06:15 PM (GMT)
QUOTE (Dajohn @ Feb 24 2012, 04:46 PM)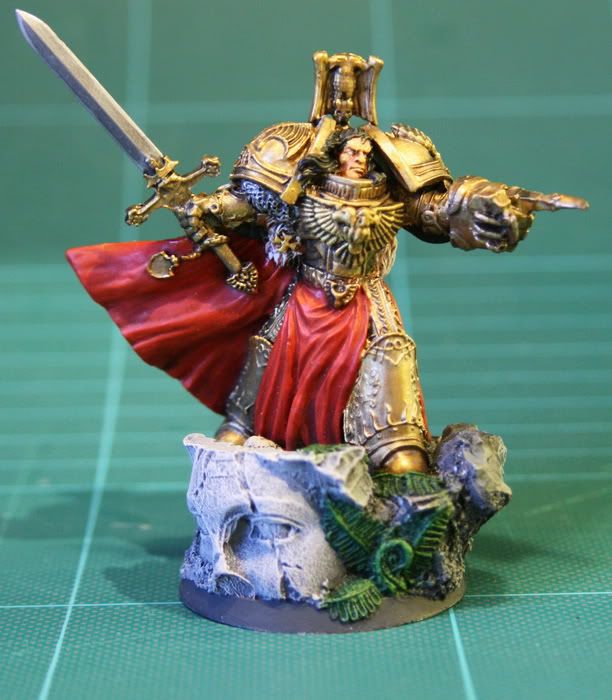 "You there, cut it out this instant! Don't make me come over there, young man."
Dajohn - February 28, 2012 11:42 PM (GMT)
:lol:
today I got the legs that I ordered from microart studio that I´m going to use for half om my power armored custodians. They look quite nice...

I have based them and am now waiting for a pack of gray knights and a pack of sanguinian guards to arrive. Hopefully I´ll get them tomorrow... hopefully... :mellow:
Razerz - February 29, 2012 09:17 AM (GMT)
Any chance to see unpainted models? I love to see the "raw" conversion.
Dajohn - February 29, 2012 02:14 PM (GMT)
QUOTE (Razerz @ Feb 29 2012, 09:17 AM)
Any chance to see unpainted models? I love to see the "raw" conversion.

sure! when I get the rest of the stuff I ordered I will do some WIP shots :)
Anarnaxe - February 29, 2012 04:58 PM (GMT)
Its always nice to see some Custodes, and I really like these ones. Keep 'em going mate :thumbup:
Pax Urbis Pax Imperi - March 1, 2012 06:25 PM (GMT)
I love the deep red colors. Really striking in its contrast to the gold armor.
S7RYPE - March 2, 2012 01:37 AM (GMT)
loving the big guy :)

GET OFF MY LAWN! :D
Dajohn - March 8, 2012 03:57 PM (GMT)
Finaly I got the rest of my stuff from Maelstrom... So let start the building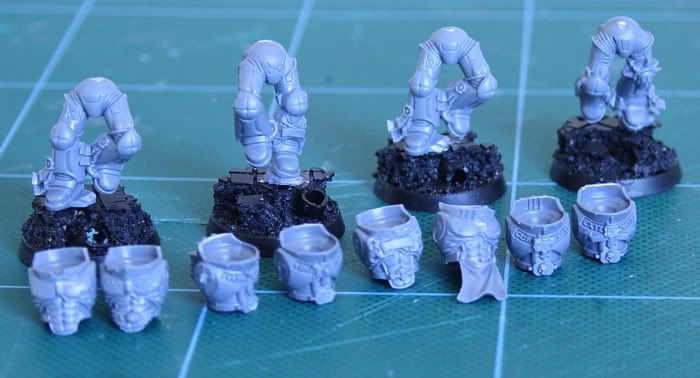 One pack of Sanguinian guards and one pack of grey knights... Lots of blood droplets and inquisitor heraldry to scrape of...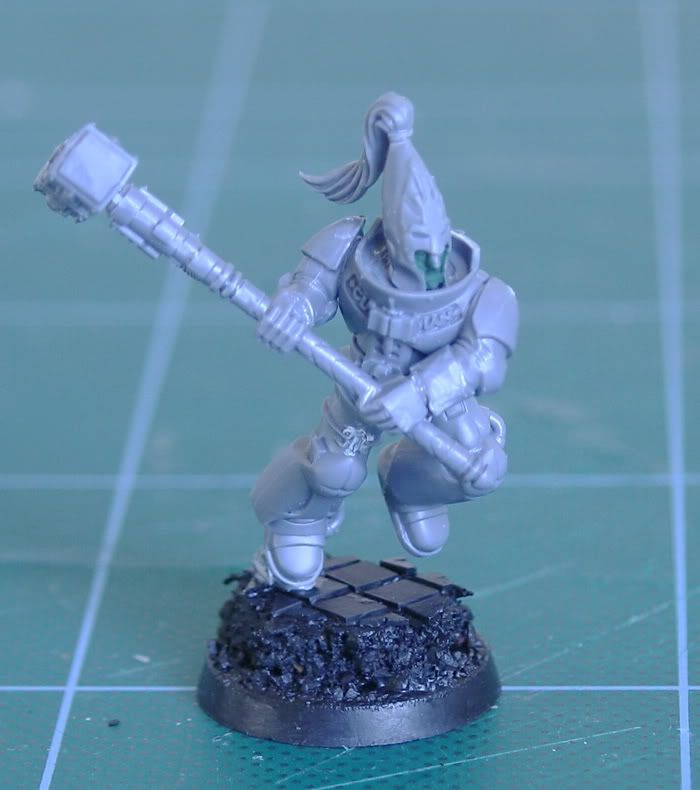 First custodian... lots more to do. (the green in the helmet is liquid green stuff that I used to try to cover up the facial features of the high elf...)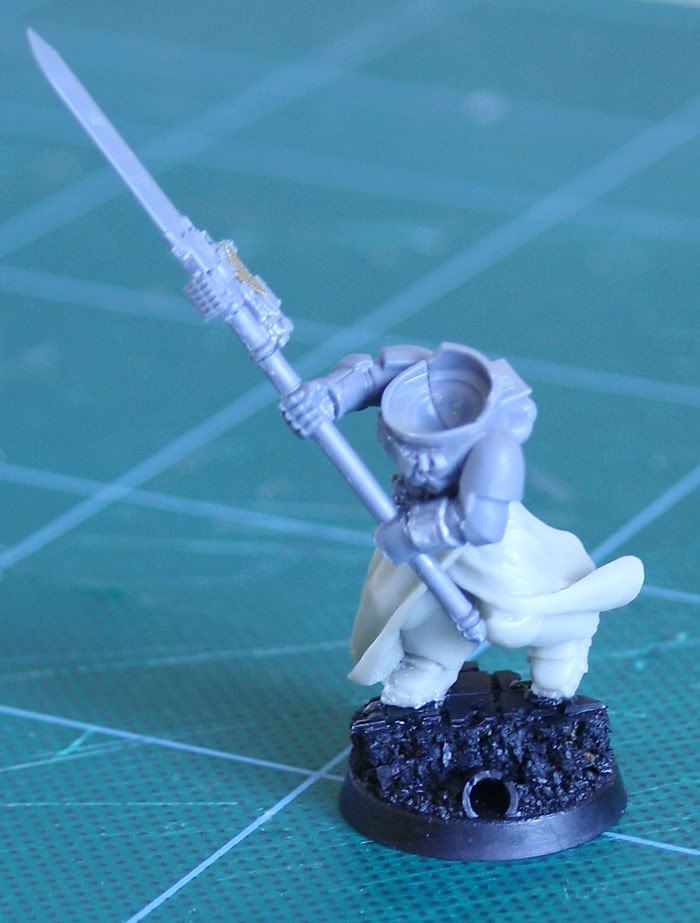 Second custodian... obvious also lots more to do...
Here´s a little tutorial over how to make a custodian spear...
Cut of the sword and the halberd in the read line. Remove the power pack and the power cable on the sword. Cut of the corner of the bolt pistol so that you get a surface to glue the sword part to.

It should look like this when your done cutting...
Then glue the parts together... ad an Imperial eagle, may by a purity seal...

and you should get some thing like this! :)
that´s it for the custodians for now...
oh yeah I also put this count as Inquisitor Lord Hector Rex model together from some of the grey knight parts I did not use for the custodian terminators... (and a scibor sf-shield)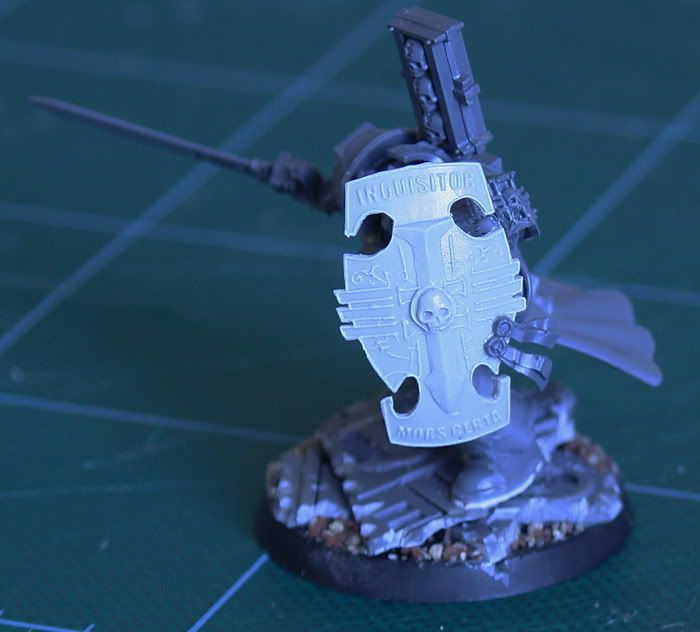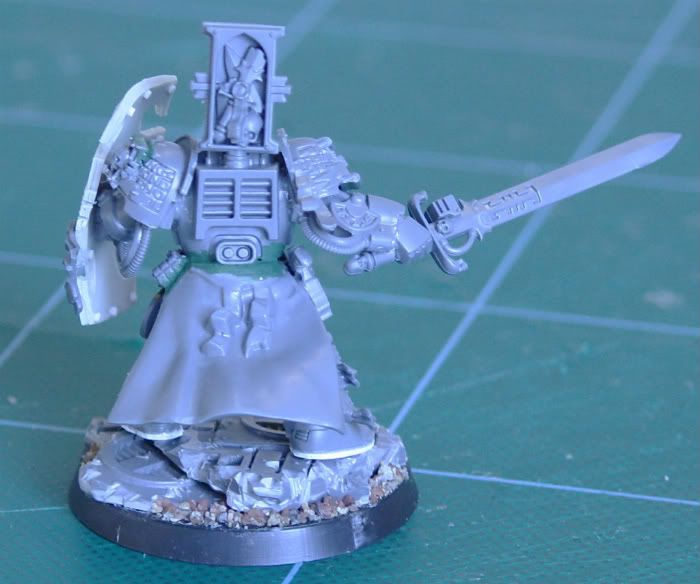 hope you like :)
Dajohn - March 17, 2012 10:56 AM (GMT)
two squads done and ready for painting...
Squad one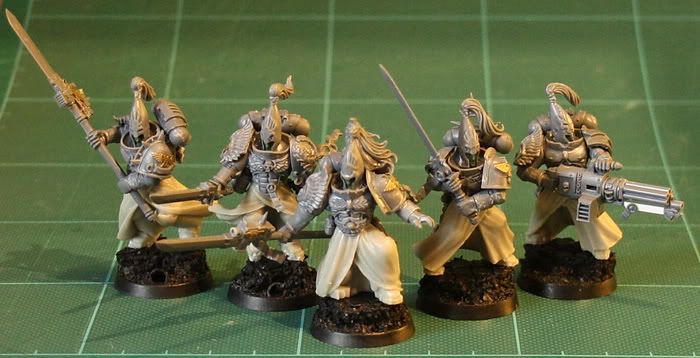 Group shot...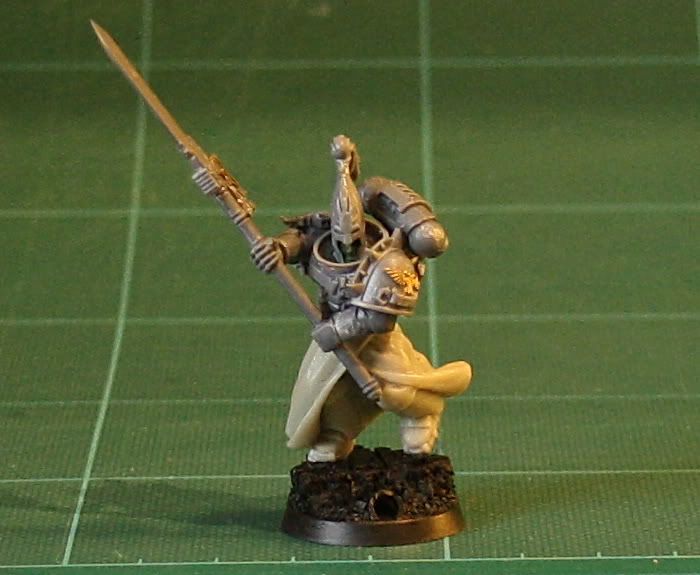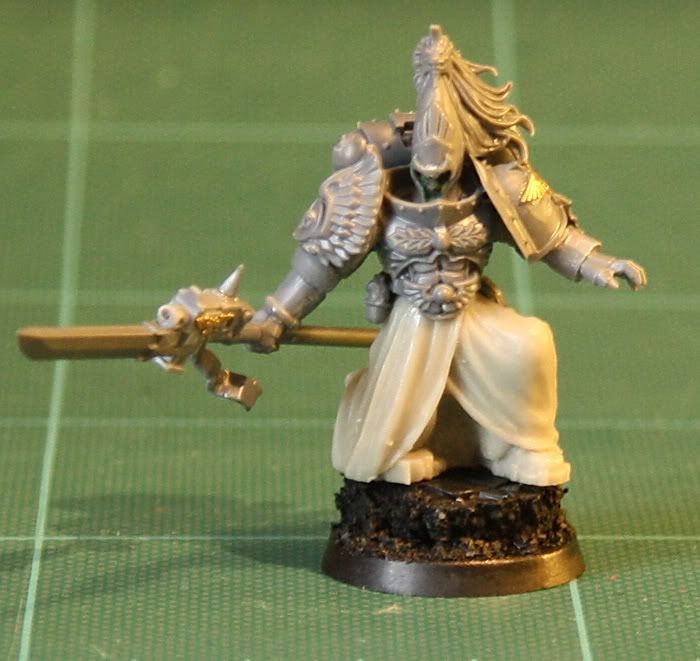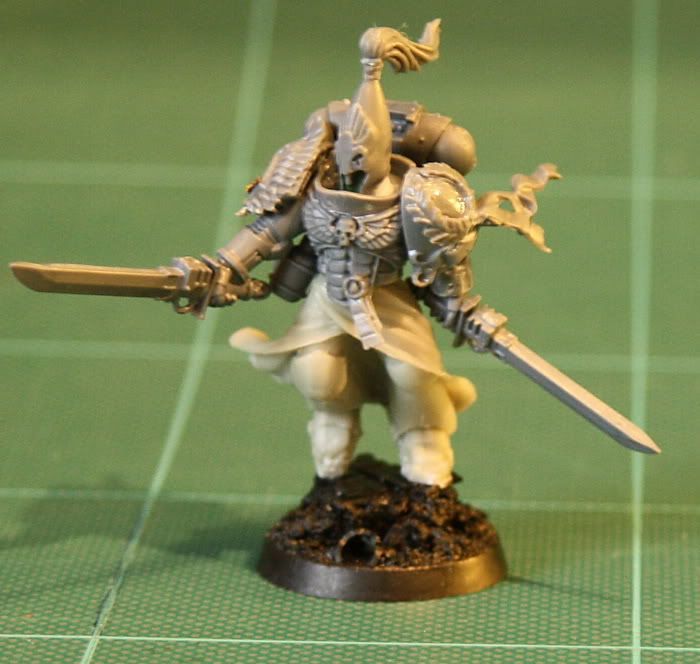 and some heavy fire power... :)
Squad two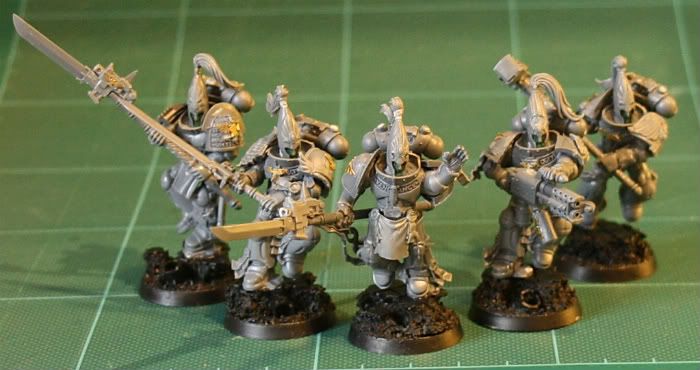 Group shot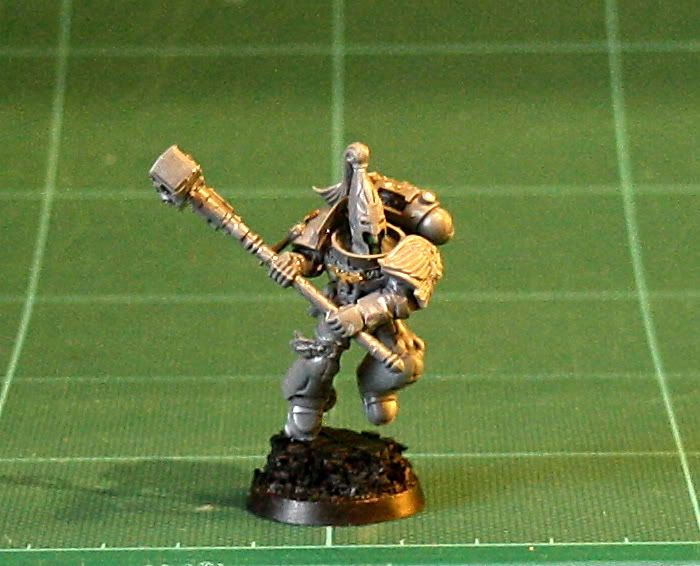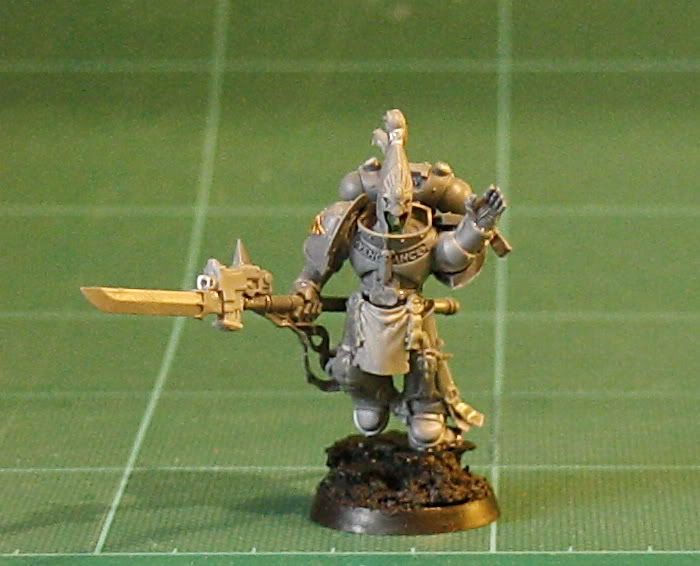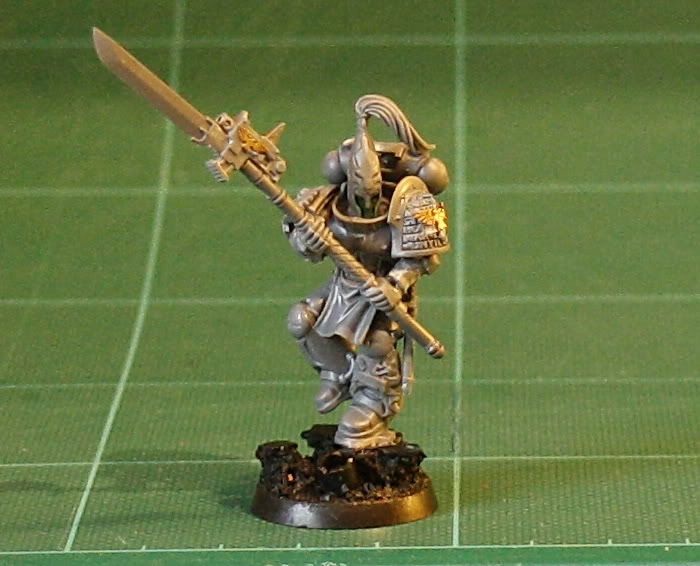 and now... of to my get my hands on some pots of shining gold... :tongue:
MrBigMr - March 17, 2012 02:56 PM (GMT)
QUOTE (Dajohn @ Mar 17 2012, 10:56 AM)

and some heavy fire power... :)

Consider that idea nicked.

*yoink!*