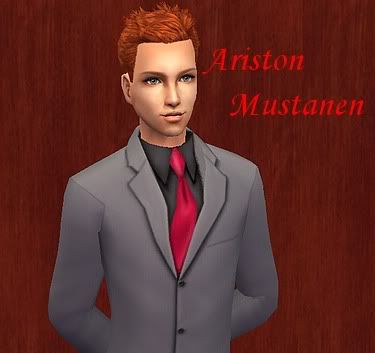 Name: Ariston "Aris" Mustanen
Age: 22
Gender: Male
Height: 6í1Ē
Ariston was born with a silver spoon in his mouth and he resented the very taste of it. By the time he was born his father, Aiden Mustanen, had become rich due to the family corporation. Ariston was never the disgrace of the family but he never quite conformed to the behavior and appearance his parents always sought from him. It was assumed at birth that Ariston would eventually take over the family business and he has been groomed for it every day of his life. Luckily for everyone involved, Ariston had both an eye for and an interest in business. He took to it with a skill that amazed his father and assured him he was doing the right thing in preparing his son to step into his shoes.
Over the years, as Ariston has become more and more involved with the business he has begun to find faults with his fatherís techniques and strategies. He looks forward to changing some of those policies and molding the business into something he feels is more positive and successful. His business savvy is admired by many. He has become a force to be reckoned with in the boardroom and the cold hard steel look in his eyes is legendary. Yet most find that he is a reasonable and fair man and are willing to follow him when he takes his father's place.
Still, Ariston is far from pleasing his parents. Outside of the boardroom, he is a very easygoing man who enjoys frequent laughter and good times with friends, often engaging in activities that the Mustanens find beneath them such as soccer and going to the bar. His friends, hair, occasional stubble, and his lack of interest in the woman they wish to see him eventually marry are all sore points with Aiden and Annette. Claire has been determined to secure Ariston for herself since their teenage years and both sets of parents support the couple. He, however, is almost completely against the idea. On occasion he must bow out to his parentsí wishes and keep company with Claire but heís holding off any form of engagement for as long as possible.
It matters not, however, whether Ariston desires to take over the company just yet. The more support Ariston garners from Aidenís business associates, the closer comes the day when Aiden turns over the reins to his son, both the past and future of the Mustanen Corporation.