Title: Principals' Offices
Mayor Nardine - May 21, 2009 01:56 PM (GMT)
Meet with the AP or schedule meeting with Principal
Alise - December 3, 2010 05:06 PM (GMT)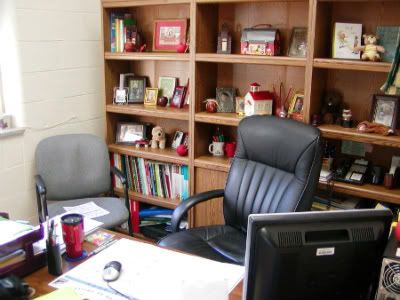 Alise - December 3, 2010 05:17 PM (GMT)
Alise smiled gently at the young woman seated across from her, who after twenty minutes in the office was finally beginning to relax. Alise knew she had to tread carefully here. She wasn't a guidance counselor but the young woman had refused to go to there so she had to do what she could.

"Can I make a suggestion?" she asked in a low soothing tone.

The girl looked up and slowly nodded.

"I have a meeting later this week discussing how to help solve some of the issues students face. Do you think you'd like to come with me? You don't have to talk if you don't want to but I think it might be something you might need to experience."

Her mind was working so rapidly to find solutions for this young girl that the meeting she'd scheduled with Greg Deveareux and his family temporarily slipped her mind. She needed to convey to her that there was both hope and help available to her. She was focused solely on that. That and coaxing at least one smile from her before she left.
Weston - December 3, 2010 08:17 PM (GMT)
Greg treaded into the office and sighed. He was in trouble, again but instead of being seen by his guidance counselor, the principal wanted to see him. He was toast! He knew he should have been careful; should have not been so obvious but he just couldn't take all the pressure of being in the new school with new students. It was just easier to skip class and avoid everyone as much as possible.

But it had gotten so bad that he was called almost every few days into the office. Greg only hoped that his mom wasn't called this time because getting spoken to by the principal was major!

"Excuse me, I have a meeting with Prinicipal Chevalier," said Greg, scratching the back of his head nervously.

"Please be seated. I'll tell her you're here," said the secretary, who stood up and knocked on the principals door.

~~

Meanwhile, Weston, Greg's brother was pulling into the parking lot of the school with the cellphone pressed to his hear.

"Yes mom. I can handle this. How old am I?" he teased his worried mother. "You just take care of Brett and I'll fill you in when the meeting is over. Yes mom. I love you too. I'll talk to you later."

After disconnecting the call, he pulled into the visitor parking space and shut off his car. What was going on with Greg?!
Alise - December 3, 2010 08:23 PM (GMT)
There was a soft knock on the door before the secretary stuck her head into Alise's office.

"Greg is here when you're ready for him, Ms. Chevalier," she announced.

Alise looked up, blinking violently before nodding. "I'll be with him in just a few moments."

The secretary nodded and retreated from the room. Alise turned back to the young girl.

"So what do you think?"

"Are you sure it's okay for me to come?"

"Positive."

"If you're sure...I can come."

Alise smiled. "Great. I'll have a field trip form given to you so you can show your teachers."

She smiled and stood up, turning to leave before turning back suddenly. "Thanks Ms. Chevalier."

"You're welcome."

Alise escorted her out of the office and turned her gaze to Greg. "Come into my office please, Greg."
Weston - December 3, 2010 08:30 PM (GMT)
At least the principal was easy on the eyes but still ... getting scolded and in trouble when you know you were wrong was a horrible feeling. Dragging his feet, Greg moved forward until he was through her door and sat in the seat in front of her desk. He sighed again and began to move his legs nervously.

In all his years he'd never been inside the principals office. He was a good kid for the most part but with the sudden changes in his life he was having a hard time dealing. He wish he was like his brother Brett and Jayden ... Brett loved his new school and bragged about how much fun he had while Jayden was finally able to attend Pre-K.

But no, not him ... Greg felt like such a disappointment. He prayed that his mom wasn't called.

"Good morning Miss. Chevalier," he greeted her, praying, again, that she didn't turn out to be some monster under that pretty face.

~

"Can you please tell me where the main office is?" asked Weston, approaching one of the teenage girls roaming the hallway. She bat her eyelashes at him and smiled.

"Straight down the hallway and to the left," said the female student, flirtatiously flinging her hair. "I can show you if you'd like."

"No thank you. I'll be fine. Have a nice day," responded Weston, chuckling to himself at how obvious she was being.
Alise - December 3, 2010 08:33 PM (GMT)
Alise waited until Greg had gone into her office before she leaned in to speak with the secretary. "I believe a Mr. Ingram will be joining us shortly. Just send him right in." she instructed before joining Greg in her office and closing the door behind her.

"Good morning, Greg. I understand we're having a problem with your attendance?" she asked gently as she claimed her seat. She took in the restlessness of his legs and the way he avoided eye contact. Hmm.
Weston - December 3, 2010 08:39 PM (GMT)
Greg gulped. Oh boy, he was so in trouble it was no funny. Never having gotten into this type of jam before Greg was completely nervous and not himself. He stuttered a bit before pausing and then trying again.

"Umm, I guess so ma'am," he started, not wanting to admit what he had been doing until she confirmed why he was pulled into the office.

Weston finally arrived into the office and walked straight toward the secretary, who immediately took interest in him. She primped herself up and tried to dazzle with him her pearly white smile.

"I'm Mr. Weston Ingram. I'm here to speak with Miss. Chevalier in reference to my brother Greg Devereaux." His speech was refined and proper, holding a straight posture while he gave the woman eye contact.

Blushing she nodded her head and turned away from him. Some of the other women in the office took notice of Weston as well and allowed their eyes to follow him.

"Right this way Mr. Ingram," she said, leading him toward the principals door. She knocked once and then opened it. "Mr. Ingram is here Miss Chevalier."

Greg's head immediately snapped up and over his shoulder. He gulped loud enough that everyone could here. "West," called Greg, suddenly wanting to run away and hide. So they did call someone. Great!
Alise - December 3, 2010 08:43 PM (GMT)
"Thank you, Susan," Alise gently dismissed the secretary.

She rose to her feet and offered her hand to Weston. "It's a pleasure to meet you, Mr. Ingram although I think we both wish the circumstances were a little different. Please, have a seat."

She hid a smile at Greg's reaction. She'd been hoping the presence of a family member would help them get to the root of the issue and it was looking as if she may have been right. Greg didn't strike her as the stereotypical skipper and she had a feeling there was an issue that needed to be addressed.



Weston - December 3, 2010 08:50 PM (GMT)
"It's a pleasure to meet you as well Miss Chevalier. I apologize if I'm late," he said, shaking her hand and then parting from the greeting. Once she was seated, Weston pulled up a chair closer to Greg.

"Don't look so nervous, okay?" he told his brother. "Whatever it is we'll work it out." He pat his brother on the shoulder who seemed to relax at his brothers assuring words. So maybe he wasn't that much in trouble.

"Where's mom?" he asked.

"She had to take Brett to the doctors. He's been throwing up all morning so she asked me to come in her place. But I'll tell you now, she's not made at you so relax."

Greg nodded his head and his shoulders slumped again.

"What seems to be the problem here?" asked Weston, once his brothers terrified expression cleared from his face.
Alise - December 3, 2010 08:55 PM (GMT)
Alise quietly observed the interaction between the brothers. Perfect. He appeared to have a supportive atmosphere at home and that would go a long way in bettering things.

"Greg's attendance is relatively low. What's particularly interesting is that his attendance only seems low in certain classes. I'd like to get to the bottom of the issue and see what we can do to resolve it."
Weston - December 3, 2010 09:02 PM (GMT)
"What do you mean by his attendance is low?" asked Weston, gazing at his brother who sunk into the chair from embarrassment. "My mom and I ensure all of them are at school on time and everyday. Greg hasn't missed one yet ... not that I know of."

Greg gulped again but knew if he didn't speak up, Weston would be disappointed he wasn't facing his problems.

"I've been cutting classes," admitted Greg, regret written all over his face.

"You, cutting class?" repeated Weston in an inquiry.
Alise - December 3, 2010 09:09 PM (GMT)
Alise nodded. "Teachers are required to take attendance in every class and there's homeroom attendance that goes for the entire day. He's missed school completely twice that we're aware of. He's missed American history seven times, English nine times, and algebra eight times. What I'd like to know is why."

She gave most of her attention to Greg. It was him she was dealing with. Weston was just meant to be support for the boy as well as enforcement of whatever they decided on.
Weston - December 3, 2010 09:18 PM (GMT)
Weston was flabbergasted. All this time he thought Greg was adjusting well, doing great in class. Every time he came home from school there was a smile on his face and he went straight to his room to do "homework." And all this time he'd been missing school, ditching classes and not acting like the Greg he knew.

Instead of question him again, like his mother would have, Weston folded his hands over his lap and waited for Greg to answer the principals question. Why repeat it unless he didn't answer.

"Why?" Greg's eyebrow furrowed and the frown slipped on his face. "Because ... I hate this school. I hate the classes. I hate my peers. I just don't want to be here. It's not for me," he admitted.
Alise - December 3, 2010 09:23 PM (GMT)
Alise raised a brow. "Your schedule was matched as closely as possible to your schedule at your previous school. We made sure of that. Is it really the classes, Greg? Or is it more about being planted somewhere unfamiliar in the middle of the school year when everyone's got a routine and set friends but you?" she asked insightfully.

She'd taken some time to go over all of his records from his previous school. He'd been an excellent student and there was no reason for him to not be excelling there at Ascot. His absences were taking away that chance.
Weston - December 3, 2010 09:30 PM (GMT)
"I just don't like it here, okay?" he said a little snappish.

Weston did not like Greg's tone at all especially since the principal was only trying to figure out this situation. She seemed to care about his education unlike his previous school.

"Greg, I would watch your tone. We did not teach to you speak in such a disrespectful manner," said Weston assertively. "I gave you a choice Greg. It was either here or Hech Academy. You chose here. I didn't force you into a choice even when mom wanted you to. I sided by you thinking this would be better to adjust to and you hate it? I don't understand."

Greg just shrugged, not looking at either of them.

"I understand what it's like Greg. To be a teenager is not easy but seriously what's going on and I want a straight answer from you. No shrugs. No 'I don't knows'. I need to know what we can do to help you."

Greg didn't answer for a while. "I just don't fit in. A lot of the kids make fun of me. They call me names. At first, it didn't affect me but day after day of this and that and it was exhausting. I stopped going to class to stop getting harassed."

"
Alise - December 3, 2010 09:43 PM (GMT)
Alise's eyes narrowed in anger but otherwise she remained calm. The longer hair, the pale skin. She could only imagine some of the cruel things the kids had thought of.

"I'll need names of course. It's not pleasant," she cut Greg off when he would have spoken. "But it needs to be stopped and you need to understand that I do not at all tolerate bullying in my school. So again, I'll need names. You have the same right as everyone else to be at this school and nobody should be able to take that away from you. Skipping school isn't the answer here, Greg."

"I'm not going to feed you some make believe story about how I was bullied in school. I wasn't, but I knew people who were and I can tell you that sometimes the problem can be fixed if you just tell the right people."

"I'm willing to talk with your teachers about letting you make up missed assignments if you promise you'll start attending class on a regular basis and let me personally know if it continues. I can't stop it if I don't know it's happening."
Weston - December 3, 2010 09:51 PM (GMT)
"Miss Chevalier is right Greg. Unless you provide her with names and what has been occurring during your class, she cannot find a solution to this problem. You cannot let someone cheat you out of your education. You know very well how important it is to be educated and mom did not raise us to be ignorant or failures. You can't let the bullies win because you're probably not the only one to be going through this ordeal. There may be more who aren't in the same position as you," said Weston in his soft, brotherly tone, letting his voice highlight the importance of this matter.

"I love you and I only want success for my brother."

"I don't want to be a rat West because then they'll really come after me. No, I can't drop names," said Greg, crossing his arms over his chest in defiance. "I'd rather go back and live in Terminal Valley then do this."

Weston shook his head. What on Earth was going on with this kid? It seemed that the problem was deeply rooted in something else.

"I guess I'll have to drop everything and escort you to each and every class. I mean, if that's what it will take to get you back in class then I'll do it," said Weston. "I'm sure Ms. Chevalier would be willing to arrange that. Have it your way Greg ... speak up now."
Alise - December 3, 2010 09:58 PM (GMT)
"They're already coming after you, Greg," Alise pointed out softly. "And it will get worse if you don't let me do something about it. I understand that it's difficult for you to tell me this and I know you don't want to agitate the situation. I don't want to either. You have to trust me on this. I want to help but you have to want me to."

She smiled softly at Weston's alternative. She believed he would do it too.

"I personally wouldn't mind Mr. Ingram's alternative but I don't think that will sit well with you. Let's compromise. You tell me when and where the bullying usually occurs. I'll do whatever I need to do to be there. If I see it with my own eyes, they can't very well accuse of you of snitching now can they? I'll talk to some of the staff about it as well. This way it won't seem like it's coming from you. I can list teachers that may have seen something. Is that a better alternative for you?"

"Tell me what you feel you need to feel safe and I'll make it happen."
Weston - December 3, 2010 10:12 PM (GMT)
Greg let his brothers and the principals words wash over him. It would be cool to have his brother around and most definitely nobody would bother him. But that would mean he'd be taking his brother away from his responsibilities like helping mom and his career. Greg couldn't be that selfish. It was wrong especially after everything West had done for the family; taking them out of Terminal Valley after he struck it big with his energy drink.

"Greg, you know I'd do it. I'm a man of my word," said Weston with a smile, nudging his brother. "But do you really want me cramping your high school experience. I've already had mine and it was nothing compared to this. At least your school is clean; has a great staff; some of the kids actually want to have an education. Think about where I came from compared to you ... this is sweet."

Greg sighed already having made his final decision. "It's happening in all the classes I cut but most especially in English and Algebra. It's one of the jocks Manny and big Kevin with the black hair. They stole my books, trashed my locker and have insisted on making me miserable since the first day I came to class. I've tried to avoid them but they make it their mission to seek me out."
Alise - December 3, 2010 10:19 PM (GMT)
Alise wasted no time jotting down the names as well as a side note about having a teacher in the area around Greg's locker. She knew the boys and didn't have any trouble believing they'd been bullying Greg. They wouldn't do it when teachers were paying attention. They couldn't be everywhere but she'd make sure they were darn close. She'd send out a memo as soon as she was finished with the conference.

Manny valued sports more than anything. She would have a lot of influential power with him simply by threatening his ability to play on any of the school teams. Kevin would take a little more work.

"Thank you Greg. This helps a lot. I'll be sure you get your books back soon and I'll deal with this as soon as possible. I want you to be comfortable here."
Weston - December 3, 2010 10:28 PM (GMT)
Weston patted his brother on the back. "See, that wasn't so hard and just by letting Ms. Chevalier know will ensure that you are safe. I am most positive she won't let anything happen to you while she's the principal. Just have a little faith in her and remember these things won't happen over night so give it a little time. And please, no cutting class anymore. I don't think you want to repeat the school year."

Greg shook his head. "No way. I'd like to finish junior year already," he responded with such relief. "And then senior year, off to college and then taking business just like you. I want to be a millionaire too."

Weston was a humble man. He didn't boast about his riches or live lavishly. He enjoyed living comfortably and yes, being rich was a perk but not a necessity. He lived most of his life unfortunate and he appreciated where he was at in his life.

"Alright Greg. We'll see. You have to prove it to me," said Weston, turning his attention to Alise. "How are his grades? What will he need the most work on?"
Alise - December 3, 2010 10:35 PM (GMT)
Weston was a millionaire? It hit her in that very moment just who was seated in her office. Weston Ingram. She hadn't registered the name before. She'd been so focused on the young girl and then Greg that she hadn't had time to deal on his brother. She'd read an article on him a few weeks back. He was the creator of the latest energy drink; one she'd made frequent use of over the last week or so.

She shook her head slightly and made herself focus, smiling at Greg. "Those are great ambitions. Let's start with getting through junior year."

"Algebra's going to take a lot of work. A lot of the material builds on previous material and he's missed quite a bit of it. As I said, I'll talk with his teachers so they know it's acceptable for him to make up the work he's been missing. They'll give him a week at most just because there's still the current material he'll need to be doing. He may need to stay after school for some tutoring sessions just to ensure he gets all the material. He'll have to talk with his individual teachers as far as most of the work goes. I certainly think it's doable. He'll just have to work hard for these next few weeks."
Weston - December 3, 2010 10:44 PM (GMT)
"Yes ma'am. I promise I will do everything it takes to get me back into good standing. I will work extra hard and I will seek tutoring if necessary. But West, can you help me? I know you're busy and I don't want to take away from your busy schedule but you're really good with math and I've been having a hard time anyway, which was another reason I ditched." Greg bit his bottom lip.

"My schedule is not too busy for my younger brother. You tell me what days, I'll make sure to be home early enough to help you. Greg, you know education is crucial for success in the real world and it all starts from home. If there's any other subjects you need help with, I'm your man. It's not like I have plans anyway." Weston smiled, sitting up to stretch his back.

"So is this it? I'm not getting suspended am I?" questioned Greg.

Alise - December 3, 2010 10:47 PM (GMT)
Alise smiled patiently at him. "No, you won't be suspended. I'm not going to punish you nor will I make you miss any more days than you already have. I can't very well fuss at you for missing class and then punish you by making you miss more class, especially when you were only trying to deal in the best way you knew how."

"If all goes well, I should be in your math class this afternoon," she added as she signed a pass for him to return to class.
Weston - December 3, 2010 10:57 PM (GMT)
"Thank you Miss Chevalier. I want to apologize for causing you any trouble," said Greg as he took the pass from her hand and stood up from the chair. He'd never felt so good to get out of that office and back to class. "I won't let you down and if I have any problems, I will come to you." The principal seemed to earn his trust.

"Before you go," said Weston, standing up as well and reaching into his pocket. He pulled out a few twenties discreetly and handed it to his brother. "Lunch money. Also mom nor I will be able to pick you up so make sure you get you and Jayden home."

Greg nodded, folded the money and stuck it inside his pocket. "I'll see you later West. Thanks." The brothers exchanged a handshake and then Greg was dismissed from the office.

"Being a teen is not easy these days," he remarked, turning his attention to the principal.
Alise - December 3, 2010 11:02 PM (GMT)
"You didn't cause me any trouble at all, Greg. I'm just glad we're going to get the situation taken care of."

She smiled as she watched the brothers. The way Weston took care of Greg was incredibly endearing, even more so given that he was a millionaire. Given his story and their behavior, it was very clear that Weston valued family.

She rubbed her forehead lightly as Greg left the office. "It certainly isn't. Can I ask you a few things about Greg? What might he be interested in? There's clubs and such here at school and I think if he gets involved in something he likes, he'll find a comfortable set of friends and it'll lessen the chances of him getting bullied."
Weston - December 3, 2010 11:08 PM (GMT)
Ever since their stepfather left, Weston filled in the position of a male role model for his brothers. Sure, it wasn't the same because he wasn't their dad but he, himself, experienced life without a father and it took a lot of years to accept it. His family was his world; it was the reason why he woke up in the morning and strive for the life they all deserved.

"It would be my pleasure to answer any question. If it can possibly help Greg, I'd do anything," said Weston as he took a seat where Greg had been seated.

Just then his phone beeped and he lifted his Blackberry to see who it was. Not more important than his brothers education, Weston shut his phone off and placed it back in his pocket.

"I am positive that Greg isn't really into sports except for baseball. He used to play on the little league team when he was younger. Other than that, he mostly plays video games, stays home for the most part."
Alise - December 3, 2010 11:15 PM (GMT)
Alise flipped to a clean page on her desk and jotted that down as well as a list of students she was familiar with that might Greg might find acceptable. She temporarily tuned Weston out as her list and bubbles expanded, listing all the opportunities she could think of for Greg to get involved on campus.

"Okay." She looked up at him when she'd exhausted all of the possibilites she could think of off the top of her head. "Video games. Does he like science? Or maybe technology as a whole?There's a science club that might be good for him as well as the National Technical Honor Society. I can speak to the presidents of both or some of the kids I know involved in the clubs to get the ball rolling on that front."
Weston - December 3, 2010 11:20 PM (GMT)
"Actually, he loves science. When I was developing some of my formulas, he'd be right at the table, jotting them down; noting the chemical reactions; providing me with nutritional facts of certain vitamins and minerals. And I believe it's the only class you didn't mention that he skipped. I do remember him winning the science fair last year and the year before," said Weston as he tapped the side of his jaw in thought.

Moving the length of red hair from his face, he shook his head. "Maybe we should try for the science club first. I can talk to him about it tonight and see where he would stand with that. Technology is a maybe but he could use the exposure."

Weston sat back in the chair. "I appreciate all your help with Greg and want to thank you for bringing this to our attention."
Alise - December 3, 2010 11:25 PM (GMT)
"Okay, that sounds perfect then." She circled the science club in her notes and a few of the kids she knew were actively involved in it. "I'll get on that."

She smiled. "There's no need to thank me, Mr. Ingram. I'm only doing my job. I love my students and I hate knowing that everyone's not happy here. I'm trying to change that. That's all."

"I noticed you're very supportive of him and I can only imagine his mother is as well. That will be important in helping him overcome this. I can hope he'll keep his word in coming to me if something else happens but he may come to you or her before he comes to me."
Weston - December 3, 2010 11:39 PM (GMT)
"My mom and I really try to support an open, loving environment despite what has happened to us. Greg was never like this before but I believe growing up without his father hasn't helped his development. Sometimes he is very unsure of things or what direction he's going in. I can't ever replace their father so being a big brother is the best I can provide for him." Weston always tried hard to make sure his brothers never missed anything unfortunately he was no superhero.

"I wish I had a principal like you when I was in high school," he said as a compliment. "Although I guess I didn't turn out too bad despite the lack of support."

Weston looked up to see her certifications hanging from the walls. "May I ask, what college did you graduate from?"
Alise - December 3, 2010 11:52 PM (GMT)
She nodded. "I understand how difficult it can be growing up without a parent. I'll just say keep doing what you're doing. It's clear he respects you so you must be doing something right. That's all anyone can ever ask of you."

She smiled and ducked her head. "Thank you. I try. You certainly didn't turn out bad at all. Congratulations on your recent success."

She followed his gaze to the certificated on her wall. "I graduated from Columbia."
Weston - December 4, 2010 12:05 AM (GMT)
Weston rarely spoke of his business or his line of work because he wasn't the type to brag. Luck was on his side that he'd developed that drink. It was a revolution, an alternative to all the sugar loaded products out in the market which didn't provide any nutrients. All he wanted was to create something all natural which could boost the energy levels in your body. He was successful and then rest fell into place.

"Thank you," he said graciously, finally noticing the bottle of MC Energy on her desk. He just grinned, pushing back his hair once again. "As busy as I've been lately, I always make sure I check on my brothers. I won't allow my mom to have all the responsibility. She's only one person." Weston always held his mother above all others.

"Columbia. Great school. I was looking into attending but that would mean I couldn't be home so I opted for Covington. I believe I received a fine education for a school so new to the college scene."
Alise - December 4, 2010 12:32 AM (GMT)
She laughed when she realized he'd noticed the energy drink on her desk. "I'm actually grateful for the invention. I can't stand putting energy drinks in my body because they're just so unhealthy and then there's the crash. Your energy drink is the solution to every busy person's fatigue."

"It's admirable that you help your mom take on some of that responsibility. Like I said, it's clear you're both doing a good job. It's not unusual for children to struggle no matter how great their home life is. That's especially true in Greg's case. It was something outside of your influence."

She smiled, thinking back on her time at Columbia. "It was hard for me, especially during the last year or so but I got through it. Loved it. Covington is very quickly making its way up the ranking list. I wouldn't be surprised to see it in the top fifty within the next few years."
Weston - December 4, 2010 12:39 AM (GMT)
"I'm sure you know all about crashing as I did. College was crazy busy and I just couldn't keep up. I used to tell my buddies I was going to make the best energy drink they'll ever taste. Of course they laughed at me which had me thinking could I really did it. I was a chem minor so I was studying all sorts of things which led my curiosity to combine this and that." Weston's eyes followed up to her face, framed by dark raven hair and striking caramel eyes. "It came out of nowhere."

Reaching into his messenger bag, Weston pulled out a bottle of MC Energy and placed it on her desk. "I'm not trying to solicit business but can you do me a favor and try this out; same formula, different flavor. It's in the final stages of testing. I'd really appreciate your input."

Weston placed his hands back on his lap. "What was hard about Columbia?"
Alise - December 4, 2010 12:45 AM (GMT)
She looked at the can and then at him before picking it up and popping it open. "You didn't really think I was going to pass it up did you?" She laughed and took a sip. She closed her eyes and made a soft sound of appreciation. "Are you psychic? Is that how you knew grape was the best flavor ever invented to me?" she asked laughing. "It tastes delicious and the moment it's out, I'll buy half of the stock."

"Columbia is generally a hard school in and of itself. We really work for the prestige we get from that degree. I...I was the primary caretaker for my father for three of the years I was there. His condition worsened during my last year. It was a struggle to balance out is all."
Weston - December 4, 2010 12:53 AM (GMT)
"Although being psychic would be rather interesting, I'm just picking out flavors I would enjoy. I love anything with grape flavor especially grape soda and grape gummy bears," chuckled Weston as he, himself, grabbed the last drink in his bag and drank some of it. It was probably one of his favorite beverages and had one everyday, it was that safe.

When Alise began recounting the story of her father, he couldn't imagine what it could have been like to struggle through those problems. On a different level, he understood what she could have been going through.

"I am sorry to hear that. I couldn't imagine what it was like. All I ever had was my mother."
Alise - December 4, 2010 12:58 AM (GMT)
"Well you certainly have great taste. I'm addicted to grape myself so I can definitely appreciate this."

She smiled softly and casually averted her eyes. "Thank you. I lost my mother when I was young. It was just me, my father, and my brother. We survived well enough. There were a lot of great memories."
Weston - December 4, 2010 01:06 AM (GMT)
Weston didn't want to be rude and interrupt their conversation but he had a meeting in an hour and couldn't afford to be late himself. Standing up, he bowed his head once and placed his hazel eyes on Alise.

"As much as I've been enjoying this conversation, I must be on my way to a meeting Miss Chevalier."

Weston held his hand out to her and spoke. "Again, your assistance in this matter has been much appreciated by my mother and I. It was a pleasure meeting with you. I hope you keep me updated on my brothers progress."

After reaching into his pocket, Weston placed his business card in the palm of her hand.