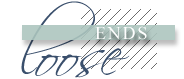 WELCOME TO LOOSE ENDS!

A slash/femmeslash Harry Potter role play site on a moderate to advanced level.

We've been revamped, baby!

Register with a first and last name in all capitals, please. Be sure to read over the plot and rules before posting.

We are currently taking both canons and originals! Please refer to the list if you'd like a canon. Remember to reserve your preferred canon, you will then have one week to post an application.
LOCATION: Mostly in Great Britain (including Scotland, France, and a bit of Wales), as it is the area affected in the plot, however there are other open areas.

YEAR: Harry Potter is in his sixth year at Hogwarts. It is their second term.

PLOT UPDATE: The spell has been in effect for a little while, but it is still puzzling and frightening for everyone as they struggle with their new feelings. Some people have bravely accepted it, while others... haven't.

CHARACTER


Emmeline Vance
COUPLE



Emmeline Vance/Glenda Chittock
Georgiana Newman/Katherina Vaisey
QUOTE


SKIN: Ashwee of rc&r.
CODING HELP: Rc&r
GRAPHICS: Lou;Rayna;Lauren;Bee;Sica;Aimee;Sarah;TF
SIDEBAR: Dana.
PLOT: Nema and Lou.

This site was created by Lou.

home | search | members | rules | plots | canons | template | face claim | advertising
Active Stats
Total Cumulative Posts
18 ( 5.62% of total forum posts )
Posts per day
0
Joined
23-May 11
Last Activity:
Apr 5 2012, 08:53 PM
User's local time
May 22 2013, 05:37 AM

Communicate
Email
Click Here
AIM Name
psi freeze gamma
ICQ Number
No Information
Yahoo Identity
No Information
MSN Identity
No Information
Personal Message
Click Here

Information
Home Page
No Information
Birthday
1 June 1992
Location
No Information
Interests
No Information

Posting Details
Member Group
Admin
Member Title
No Information
Avatar
Signature
Avatar nicked from XKCD. Banner to come.