Owing to my near complete lack of morals and my appreciation of free stuff...
I have been playing Tales of Hearts...Please don't look at me like that...=(
I also have screenshots...=D Here they are in semi-chronological order of capture: (FYI, they were take within an hour of playtime, so aren't too spoilery...There's also a lot of them...)
Shing Meteroyte's Profile...(I actually had a pic before this, but I saved over it...)
Skit time! Kohak, after I rescued her and her bro(?) from the beach, is there on the right...As in ToI, some of the skits (like this one) have a choice to make, which probably affects the relation level between chars...I think I made the wrong choice on this one, 'cause they looked pissed at me...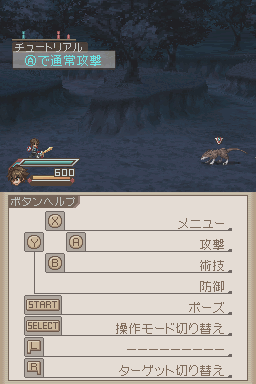 First Fight! Yeah, tutorial on how to attack...There's more later on Arte use, guarding, and targeting...Notice the blue bar above the character status...That's the ToH version of the Chain Capacity from ToDR (and ToD2? I don't recall...) That means no TP...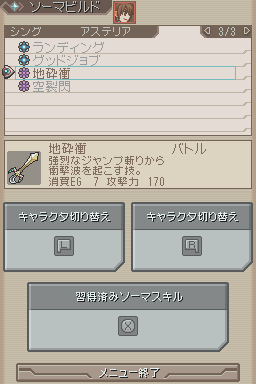 Hisui Hearts (Kohak's brother, I should guess) gave me some book thing after my first fight...This unlocked what I'm guessing is actually a weapons upgrading ability. By using materials I gather from fights and materials chests (pic later), I can upgrade my equipped weapon. I don't have a pic of it, but from what I can see, I can only equip two accessories, so this upgrading screen is the only way I can get stronger equipment-wise. Here, I'm getting my first Arte. I don't know what it is, though...Apparently, Shing smacks the ground in front of him...It's not Demon Fang, though...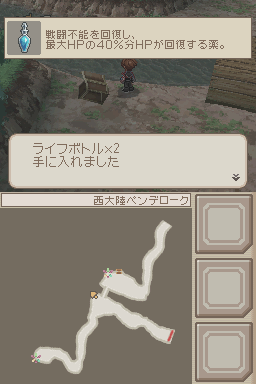 A treasure chest with a life bottle. If you look on the bottom screen, there's a map. The brown icons are treasure chests, the multi-colored ones are material chests, while the red bar is an exit to another screen. The arrow, of course, is me.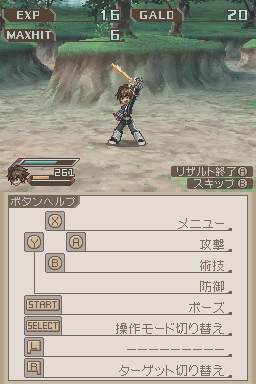 End battle screen. Not the same fight as the first one. As you can tell, I wasn't doing very well...My max health is 600...
The material chest. I don't recall what was in this one, but this is actually my second time on this map, since I went back to the village to heal. The material chests respawn upon exiting and entering. The first chest I opened had some turtle shells or something.
Whoo! I'm lvl 2!
Back to weapons upgrading. This time, I have the materials (since it's highlighted in black) to upgrade my EG (i.e., the Chain Capacity-like thing) by one point...to 17. My skill uses 7 EG, btw.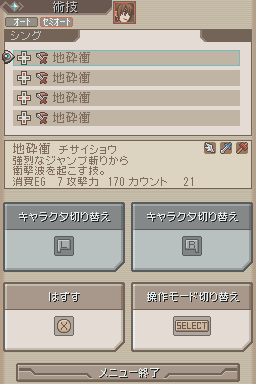 As you can see here. The game automatically put the skill in all the slots, btw.
I'm going to need a few more posts for images...