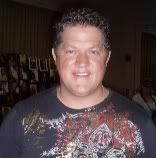 Welcome to the Derk Cheetwood Online Messageboard!!
This board was created as a safe haven for fans of Derk and the character of Max Giambetti. We hope that you will come in and introduce yourself and get to know your fellow board members. If you have any questions, please PM LisaQ.


Write to Derk:
Derk Cheetwood
General Hospital
c/o ABC - TV
4151 Prospect Avenue
Hollywood, CA 90027

Check out the Campaigns & Support section for addresses and emails for the ABC / General Hospital executives and writers as well as the addresses and emails for all the soap opera magazines.